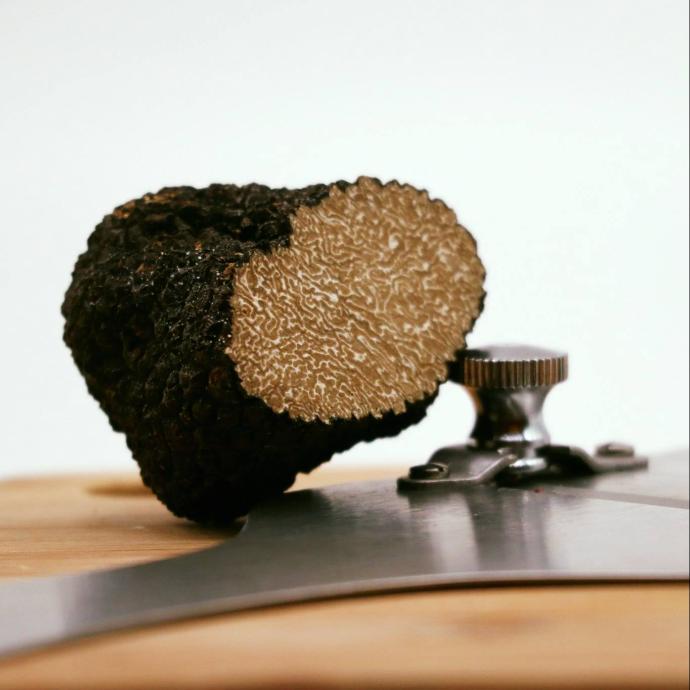 Choosing a fresh truffle​... Our secrets for success...
Planning a visit to our boutiques in​ Dijon or​ Marey-les-Fussey, close to Nuits Saint Georges? Curious to experiment with fresh truffles, or searching for inspiration on how to use them ?
With a decade of experience in the business, our passion is to share with you our secrets to selecting, storing and preparing your truffles… ​
Allow us to guide you through your truffle experience by touching on some important notes and frequently asked questions… ​
How do I store a fresh truffle?
Upon returning home, place your truffles in an air-tight box, on a sheet of paper towel. We recommend changing the paper towel once a day or whenever it becomes damp. This will help your truffle avoid too much humidity but also protect it from drying out. ​
If you do not think you will use the entire truffle, you can save it for later by preparing a truffle butter (consult our recipe here) . After 48 hours of infusion in the refrigerator, you can freeze the butter to use as needed in the future

What is the price of fresh truffle per kilogram?
One is rarely in the market to purchase an entire kilogram of truffles as 10 to 15 grams per person is generally more than appropriate. With the help of a few tricks and tips, a little bit of truffle can go a long way. ​
Any tips and tricks on how to cook with truffles?
​We encourage our clients to think of fresh truffle as a condiment that works best through infusion. Fresh truffle works best with a base that is high in fats, as this allows the delicate flavours of the truffle to infuse best. Finely grating your truffles and mixing them into a cream, butter, or animal fat, then leaving your mixture to infuse for approximately two days in the fridge, will leave you with a base rich in flavours that can then be employed to elevate any recipe.
Another important point: Never cook your truffles for extended periods of time! Truffles do not tolerate high heat. ​
Do you have any recipes to share?
You can find more guidelines to cooking with fresh truffles alongside ​ our original recipes.
L'Or des Valois also invites you to enjoy our 100% truffle lunch at the ​ Maison aux Mille Truffes from Thursday through Monday… the perfect source of inspiration for cooking with fresh truffles! ​
If you live in Dijon, don't hesitate to stop by our boutique for any advice regarding your fresh truffles, or feel free to contact us via ​ Facebook or Instagram. It would be our pleasure to respond to your questions and share our tips and tricks for preparing a delicious truffle dish.